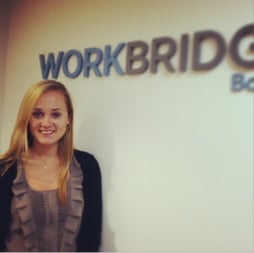 Article by Abby Rose, Lead Recruiter in Workbridge Boston
I don't work on a software development team and I don't understand the ins and outs of what an engineering team does on a day-to-day basis. But do I talk to engineers daily? Yes, and they frequently divulge information to me that they never share with their manager prior to giving their notice.
I talk to them about why they are looking to leave their company (emphasis on looking because we all know that software engineers across the board are all passive in their job hunts). This article is not meant to tell IT professionals how to run their teams or manage their developers. I hope this analysis provides insight to the most common reasons as to why engineers do end up leaving companies and how it might help in your efforts to prevent losing top talent.
I evaluated the candidates that Workbridge Boston has placed and their "reason for leaving" since the beginning of 2013. We have three teams within our organization that place Java, Open Source, .NET and System Engineers, with approximately 150 placed candidates in the past 2 quarters of 2013.
Below are the top 5 reasons why, in our experience, engineers leave their companies:
1. New Challenges/Growth/Strategy
We've all heard it. "I have no room for growth in my current company" or "I am not challenged here anymore." But what do those statements really mean? Our first reaction, as a recruiting firm, is to ask the engineer if they have addressed these concerns with their manager. Many times it is a simple fix and all parties avoid the ever dreaded acceptance of a counter offer.
But what if it's not a simple fix? Engineers that are not continuously challenged or aren't given the resources to grow their skill set will immediately look elsewhere to do so. Challenge and growth definitions vary for each individual, but what we see as a good solution is to consistently check in and promote an honest and open environment so engineers feel comfortable speaking about their career growth. If an engineer cannot believe in the strategy of a company and their approach to accommodating engineers, it's easy in this market for them to find another company.
2. Technology
This may seem obvious, but engineers thrive on teams that foster open mentalities on the use of new technologies. An old and stagnant tech stack is the quickest way to lose talent. Engineers are not necessarily chasing companies that use the newest technologies, but they are looking to leave companies that have closed mindsets.
Again, I know I don't sit on a software development team. The pains of adapting new technologies to a platform may be difficult, but it could be a good way to challenge your engineers (referring to the first point) to integrate or use the technologies they are interested in.
3. Team and Management
I've never had a candidate say they hate their boss or that the management staff is horrible. The reasons engineers leave their companies due to management is usually because of a shuffle in upper-level management that trickles down to operational changes on a technical team.
If a leader in space leaves the company, or a VP is promoted to a hands-off role, or a new CTO is hired, changes occur that effect day-to-day routines of an engineering team. The most common pain points engineers talk about are added responsibilities and unrealistic new expectations, a new SDLC that kills the current flow, disorganization of priorities, or lack of new/continued mentorship. Management transitions are a crucial time to communicate with a team and again, foster an honest environment.
4. False Expectations
"I was hired to be a back-end Ruby engineer and I'm developing HTML templates." That's no good! It usually surprises me how much I hear about engineers being hired for a certain position and end up spending the first 3-6 months doing a completely different job. It usually roots back to an interview feeling like a honeymoon without diving deep, and truly deep, into what this specific role and this specific engineer's timeline will be. If they are going to be developing HTML templates for the first 3 months, say that. Don't hide it.
Again, communication in the first six months on a weekly basis can prevent a situation getting too far out of hand. Many times, as human beings, we wait until it's too late to talk about being unhappy with our job. Instead what engineers decide to do is jump ship and find something new where they can ditch the unwanted parts of their current role.
5. Money/Stability
Yes, every recruiter encounters a job seeker that is driven to receive a higher salary than what they currently have. Good recruiters proceed with a lot of caution prior to representing that candidate.
It is more common, however, to find an engineer that is looking for a job because of the following reasons associated with money.
A startup didn't get funding
Company is going under and can't pay engineers their market value salary
Haven't received a raise in over a year
Some of these factors are not preventable, but setting up realistic goals and incentives for raises will help you keep valuable engineers around longer. Clear cut steps to a bump in salary and honesty about the stability of the company will increase the longevity of your developers. If other people in the company are being laid off, talking about why and what is going on behind the scenes will prevent engineers from looking around. When employees get laid off, it shakes up the nerves of others. Many times engineers in our office say "a few people were laid off last week, so I'm looking because I want to be proactive about finding something new before I'm out of a job."
Good news is that reason 5 is an easy fix by being communicative, open, and honest about what is happening within an organization and about how each person can be held accountable for their next raise.
Take away what you would like from this information. Hopefully it helps companies reflect on the way they approach retaining talent from an "aftermath" perspective.
Three take away points:
Create a truly honest environment
Communication, communication, communication
Proactive and not reactive check-ins with all engineers