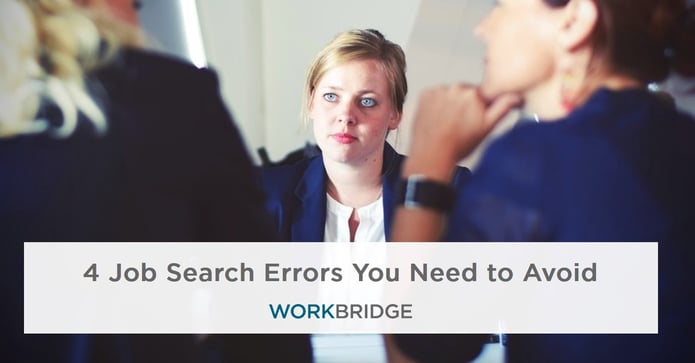 There are a lot of articles on the World Wide Web that instruct potential job seekers on what they should do: how to conduct their search, format their resume, present themselves on interviews, and negotiate the right offer. Here, we discuss a different spin by discussing what potential seekers should NOT do in their efforts to find a new position.
There are certain misconceptions that people have when starting the search for the right role and making the wrong decision can sometimes make the search all that much harder. First, I will discuss what not to do while starting your search. Next, I will cover what not to do when formatting your resume. This can be especially critical since this is typically your first 'in' with a potential hiring manager. Lastly, I will cover how to not conduct yourself during the interview process, and how to handle some hard-to-answer questions.
Found a job? Not sure if it's the right one? Here are 5 ways to find out.
Do NOT expect the Resume Boards to find your next position...
In the technology field, there are more than enough positions open, which span various fields, niches, and locations. Many are under the impression that this means recruiters, HR, hiring managers, and others of the like are constantly checking the boards for talented resumes. While there is some truth to this, many positions get filled through networking and referrals. I'm sure every programmer, systems analyst, DevOps Engineer, DBA, etc. have gotten calls when posting their resume that are inappropriate for the basic requirements of what they are looking for (i.e. location, title, salary range, contract or permanent roles). This is because anyone has access to your profile and will try to make a square peg fit into a round hole.
In order to find the next position, you must be proactive rather than reactive. Technology is a very different industry than most other industries. You should be sending your resume to companies that you find interesting (regardless of a job posting or not). You should also be connecting with people at those companies through social media that is profession-friendly (LinkedIn, Google+, etc.), this is the tech industry; be creative! You should also be connecting with recruiters that are specific to your location and know the local market or have inside information. Furthermore, since the tech industry is very collaborative and sharing in their training, you should check out local tech-specific meetings and advocacy groups for introductions to others within the tech industry. Get yourself out there, connect with people who likely have similar interests, and market yourself to the open industry…do NOT expect your resume online to do all the work!
Do NOT make decisions for the individual considering your resume…
The first step in most job searches is to update your resume. This can be a very daunting task for some, as 'selling' yourself on a piece of paper is nearly impossible. You should have a copy of your resume that you update for specific positions, and use your experience to relay your qualifications for the duties of that specific posting. However, many people 'screen' themselves out of even applying for a job based on some 'requirements' of the posting. Most hiring managers understand the difficulty of conveying a skill set on a resume (remember: they are people too, and have probably even looked for a job themselves). If you make the decision that you are unqualified based on a 'job requirement', you are essentially making the decision for the person who is considering your resume, and that decision is 'no'.
Now, this advice shouldn't be taken too literally. I'm speaking to certain job requirements. Such as, if you have 5 years of experience and the posting calls for 7 years of experience, you should give yourself the shot. Perhaps you have had more diverse experience in those 5 years versus someone with the targeted 7 years. Additionally, if the role calls for 6-7 years of experience, and you only have 4-5/7 years, send in your application regardless! Most understand the room for potential and growth, which should be conveyed through your interview process.
Do NOT make your resume a novel
(no matter how much experience you have)…
Any technical resume over 3 pages is not being read. Do NOT make your resume overly detailed. Especially in technology, most of the languages or systems you used 6 years ago may not be relevant to the current tech landscape. Technology is constantly evolving and those who work in the field need to do the same, and more importantly, show that evolution. This is directed towards those who would be considered senior in their career, of course, but you should not have to list every technology you've worked with since the beginning of your career. Instead, focus on those projects that are current, relevant, or that you've acquired on your own time (through mentorship, side projects, etc.).
When you are targeting a specific role, if the posting calls for a requirement you possess, but most other roles don't- make sure to put the skill on the resume for that role and move on. For example, if you are a Microsoft Web Developer, your C# experience should be applicable for 98% of the roles you are applying for. That VB.NET experience from 5 or 6 years ago may only be applicable for one posting. Additionally, if you have 4 years of JAVA and 3 years of C#, but want to work in a JAVA environment, tailor your resumes appropriately and apply for those positions. Most hiring managers will pass on those who 'walk the line', because it shows some experience in a couple of things, rather an expertise in one or two things. You should NOT just have one copy of your resume, there should be a couple variations.
Do NOT get in your own way through your interview process…
Phone screens are sometimes a necessary evil. While the industry is moving heavily towards first-round in-person interviews, there are still some companies, hiring managers, etc. that conduct phone screens as the initial point of contact. With this being the case, there are certain assumptions you should NOT be making. Within technology, there is a misconception that the recruiter or HR representative conducting the phone call may not be technical or may not really know how to 'screen' you. However, more and more technical positions call for someone to interface with people in the company, both who are technical and non-technical. These screens can be a great way to show your diversity and ability to work with different internal constituents. When speaking on the phone with a hiring manager, some assume there is no room for fault or difference. Make sure to conduct the interview in a conversational way, if they ask you a 'how to' question, and you get the feeling that isn't what they are looking for, clarify it with them! Do NOT assume that there are only black and white, yes or no answers.
A lot of people within technology are typically very good at what they do, but can have a hard time relaying this information in an appropriate way. For instance, one should never speak in absolutes and they should be very careful about the verbiage used. Recently, I had a candidate go to an in-person interview with a hiring manager for a local start-up. The candidate was a great fit for the role, and he was really excited about the position. When he met with the hiring manager, he was asked a question: "How would you rate your experience with ASP.NET". Now, the candidate was a Web Developer with tons of ASP.NET (and he really knew his stuff), and he answered "Expert level". Fatal mistake. The next question from the hiring manager was about some concepts of ASP.NET, and the candidate got all right but one. When the hiring manager was providing feedback, he said the candidate "shot himself in the foot". He explained that while he was very interested in the candidate, his concern is that the candidate wasn't an 'expert' and got a very simple (in his eyes) question wrong and that indicated a level of not only knowledge but naivetés that he could not justify. The candidate should have answered with "I'm very comfortable/confident with my experience, but I'm always learning". This probably would have allowed for a more positive dialogue vs. the one that resulted.
In addition to remembering what to do in your technical job search, remember what NOT do to!
While there are very specific recommendations and information out there on what to do to get a job, there are also a lot of things NOT to do that are sometimes forgotten. These small, but sometimes costly, mistakes can be the difference between you landing the 'right' job and the 'next' job!
For more job search advice, you should read: