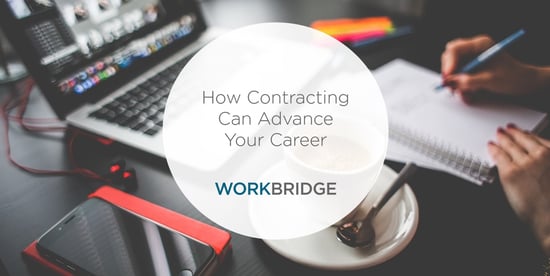 The contracting industry is growing exponentially. More and more Fortune 500 companies are turning to contracting as a business solution. Why? The cost associated with providing benefits and on-boarding for a full-time employee is high for a company on a tight budget. Contracting offers a solution for many employers looking for less overhead cost when it comes to hiring someone new for their team, quickly. So what does this mean for you? It means you have more opportunities to grow your skills and further your career – faster – as a contractor.
After meeting with thousands of technology professionals and seeing consistent questions, we've gathered the most common misconceptions on contracting. These pre-conceived notions have been preventing many job seekers from considering contract opportunities, so don't fall into the same trap. Become knowledgeable on the contracting model and how it can help you in your career.
Misconception: Contract work is unstable and always short-term.
Reality: You can have a stable career as a contractor. Typically, the duration of a contract role can range from three months, six months to one year. Contract positions can be long-term depending on the company, assignment or project. Contracts can also get extended. We've seen roles get extended for up to four or five years and in some cases, for even longer.
The hiring process for a contractor can be much faster than hiring a full-time employee. Many contractors have been offered a position after their first round interview. Imagine, going on-site for the company of your dreams and getting offered the position on the same day. "One and done, it's as simple as that."
Are you actively looking for a new role? Being open to contract opportunities can speed up your job search. You may be surprised by the turn rate. From the moment you apply to a position, you can meet the company, receive the job offer, begin the on-boarding process as a new employee, and start your first day at your next role in less than two weeks.
From an employer's perspective, there are far less hoops to jump through in terms of getting a new candidate on-boarded and having that candidate start immediately, if it's on a contract basis.
On a contract now? The rule of thumb is to start your job search at least six weeks before your contract expires. Check out our contract positions and apply today!
Misconception: If the company goes under, I'll be the first to go as a contractor.
Reality: When a company shuts down their operations, lay-offs usually happen first with full-time employees on payroll. For example, if a company is trying to go public like the recent Snap Inc. IPO, the organization will cut costs where they can to make their finances look strong. Full-time employees have overhead costs associated with the company that don't directly make the company profitable. Thus, full-time employees are typically the first ones to be let go. On the other side, contractors are not on payroll and are needed to finish out urgent projects. The point being, contractors cost less for the company. An agency like Workbridge Associates covers all costs associated with on-boarding and benefits for the contractor. This allows the full life cycle from first touch point interview to first date of employment to occur rather quickly.
Misconception: Most companies don't hire contractors.
Reality: Many companies do hire contractors – from the Fortune 500 companies in the hot entertainment industry to small start-ups working with the latest technology like VR and AI. The technology industry and IT sector is actually trending towards the contract market flow. As mentioned, full-time employees have costs that come out of department budgets under the hiring company. Contract staffing agencies cover the costs associated with HR, on-boarding and benefits. Countless companies are turning to contracting as a quicker, more effective solution to their hiring needs.
In the ever competitive, high-speed tech job market, the majority of the work is project based. Whether you are developing a new product, migrating infrastructure, or creating the software for the latest tech trend you could always use an additional hand to ensure that project is seen through completion.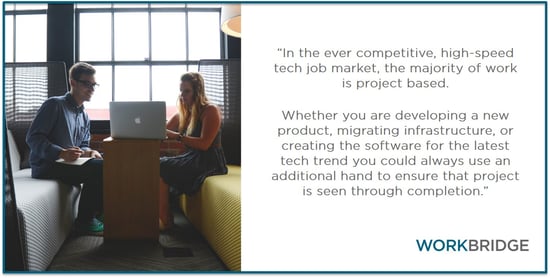 Misconception: Contract work is all grunt work.
Reality: Contract work is typically more exciting. You have the opportunity to work for some of the biggest and best companies in the industry and build out your resume while also working on the latest and greatest technologies.
Full-time roles can get boring in a stagnant environment. On the other hand, contract work is ever-changing, rewarding and compelling. There are more avenues for career growth and development. You have the opportunity to work on different projects and work with dynamic teams as well as build out your skill set and explore learning something new. Looking to create your own schedule and take time off between projects? Contracting could be a rewarding option for you! A career in contracting can be rewarding, leading to a greater impact working with different organizations in various industries, contracting is what you make of it.
Remember, with the contracting market on the upswing you want to be the first adopter. There is stability in having a career in contracting. If you are looking for a new role, the life cycle to get hired as a contractor is much faster compared to on-boarding a full time employee. Typically, companies need contractors to get hired quickly to solve a need within the organization, so you'll be valued by your employer. The next time your company has an upcoming product or software launch, you know they're considering hiring a contractor to join your tech team (and they can enlist our help here).
Related Articles: