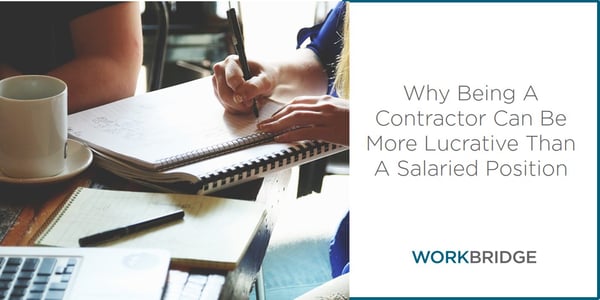 In the job search, you'll come across positions that are salaried, contract, or contract-to-hire. Many job seekers tend to overlook the contract or contract-to-hire roles, but there is more opportunity in those roles than people realize. According to Career Builder, the career opportunities for contractors are continuing to grow. Since 2016, that number has increased by 46% with 51% of employers planning to hire temporary or contract workers.The biggest benefit, and often largest decision maker, for many contract job seekers is compensation, and more permanent candidates are turning to contract work as they find they don't have to sacrifice benefits or work-life balance while making more take-home pay. Why is this?
Contractors get paid more per hour
According to Dice's 2016 Tech Salary Survey, the hourly base rate for tech contractors rings in at $70.26 per hour. In comparison, the same report also shows the average technology salary is at $96,370, which breaks down to $46.33 per hour for a 40-hour work week, not counting all the overtime you might be working. Published in a recent Recode article, in 2017 US freelance tech workers get paid $24,918 more a year compared to the average full-time worker (based on a 40-hour work week).
Keep in mind, this does not apply across all levels of experience or industries, but in general contract employees have a higher dollar-per-hour range compared to a salary employee. In theory, this is to cover the benefits that a company does not offer to the contractor, but if and when you work with an agency like Workbridge Associates, many of the benefits are included, such as health insurance, paid time off, and a 401(k).
Looking to jump start your career in tech? Check out all of our job postings in a city near you!
You receive compensation for the hours you work: All of them
A full-time job means you are a salaried employee and you are just that: on salary. You get paid a certain amount each year no matter how many hours you work as part of the salary agreement. Compared to a contractor, being employed for a 40-hour work week means working those exact hours because you get paid by the hour. Oftentimes, salary employees get called into work weekends, late nights, and early mornings. The biggest difference for a contractor is that you will get paid for the extra miles you put into the job.
Extra hours = Overtime pay
Due to a compliance law changed in 2016, not only do you get paid for every hour, you can get overtime pay (1.5 times your normal rate) for anything past your set work week maximum. What it comes down to is the more hours you work, the more money you can earn.
If you have any questions about contract work, contact a Workbridge Associates near you.
Related Articles