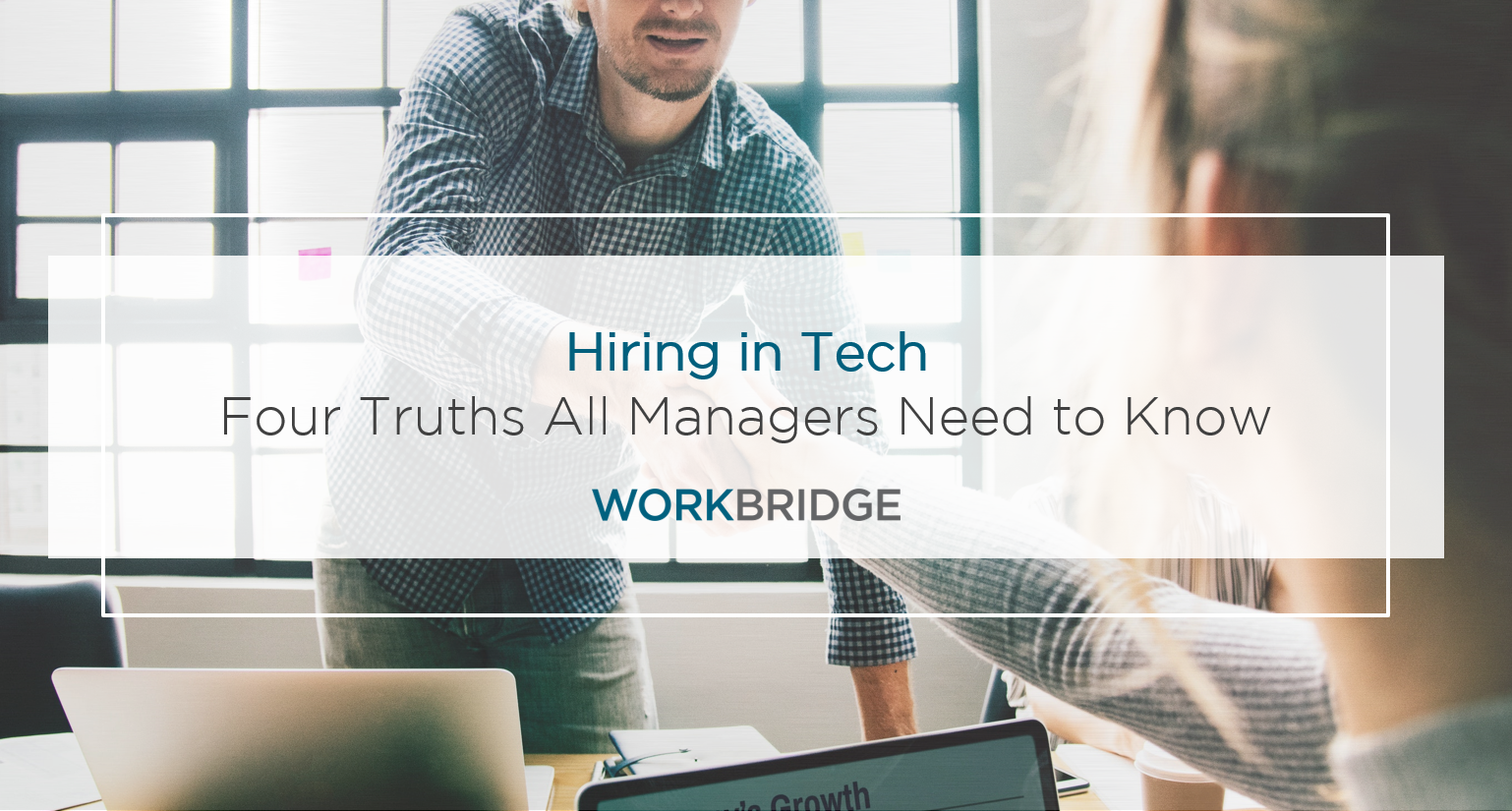 Few job markets move as quickly as the technology market, and no city moves faster than New York. The best tech roles — and the best candidates — are often off the market in less than one business week. Keep reading to learn how to move as fast as the market, and hire the right person in an ultra-competitive landscape, according the local expert Division Manager of Workbridge New York, Samantha King.
As technology is one of the most integral parts of modern business, finding strong candidates to fill IT roles can be a daunting, arduous task. If you are looking to build an all-star tech team, you'll need to stay ahead of the competition.
A vacancy in a mission-critical position for your team can derail larger business goals, creates unsustainable workloads for team members and damages morale. While active employees are covering the extra workload, you're trying to carve out small increments of time to find a "perfect" replacement, and deadlines start to slip as the strain on your team increases.
Plus, coordinating schedules with busy internal stakeholders can take weeks — so it's imperative to be able to get the talent you need for your projects and deadlines.
Navigating the competitive hiring market in tech while maintaining the pace of your current team or project is no small feat, and finding the right fit takes time and careful consideration. This is why no matter the industry, market condition, company size or budget, hiring managers bump up a few universal truths that impede the interview process - but small adjustments in light of each of these can make a big impact.
Hiring Truth 1: You know who you're looking for, but they're nowhere to be found
It's one thing to design the idea of your perfect hire and list every skill and talent you want them to possess. A quick search on LinkedIn will reveal what type of candidates are on the market, if those are skills that you can find in one person and it's someone you can afford.
Begin adjusting your search by identifying skills sets that are valuable, realistic and obtainable. If you have requirements in mind that do not currently exist on the market, you'll be looking for a long time.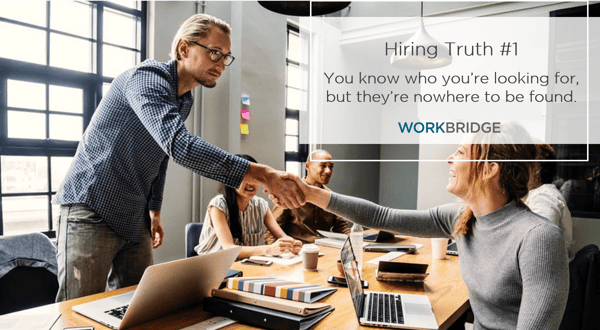 The key is to differentiate what a hire should know coming in on day one and what you can teach them. Start by identifying what is unique to your business functions compared to industry norms, and dig in to differentiate from the market.
Once you've identified these differences, you can start to consider which skills are required for the role, compared to those just desired or that can be learned on the job. One of the most common hiring mistakes is that employers seek to hire someone with the most advanced skills, rather than the candidate with the most growth potential.
If you consider your current employees, their skill-sets have likely improved in their role since joining your team. If you hire someone with a solid foundation and understanding of your needs, you can guide them to refine their skills and improve. Plus, the more room you can give them to grow and learn, the less likely they will become complacent and bored, and seek their next challenge.
If a potential hire as at least three core skills and two desired skills, they likely have the capacity to improve and grow into the role. So start thinking, and hiring, outside the box.
Hiring Truth #2: You're hiring because you're busy, but you're too busy to hire
Here's the good news: an open role, either newly created or filling a replacement, means your business is in a position to grow and your credibility as a manger has been proven. However, an open role means each active team member is pulling more weight; making time to interview and on-board a new hire a lower priority on their agendas.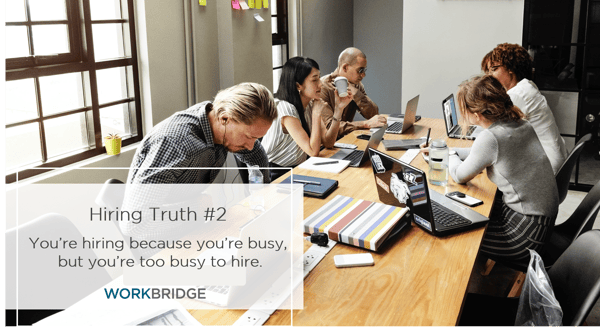 If you can efficiently move a valuable candidate through your interview process, your existing team can focus more of their energy on active responsibilities and goals. While growing pains are common when a company reaches a new level of success, it's important to make sure an understaffed team does not delay your upward progress, which can effect morale and organization.
By prioritizing hiring at the managerial level, you decrease the duration of time your team is overworked. Treat hiring like any technical project, with a project manager, road-map, timeline and objectives. Set clear expectations, block time, send calendar invites and stick to your deadline. By creating a system that holds each stakeholder accountable, it is easier to manage an efficient project flow and make the right decision with a higher sense of urgency for all involved.
Hiring Truth #3: Blink and you'll miss them: the best candidates go fast
If you've hired before, you know high-caliber tech candidates are hard to find. In the tech world, your best options are off the market in less than a week. By planning a shorter interview process, you can ensure that you don't miss out on your top choice.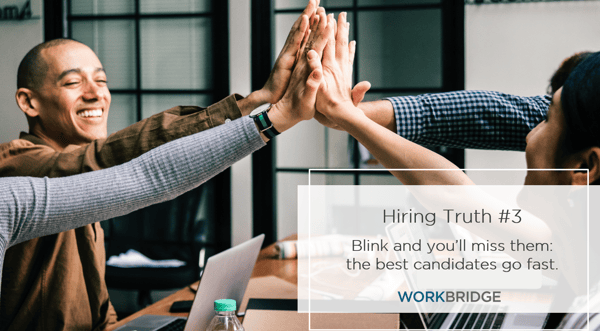 The best candidates are off the market in less than one business week, and are most likely to accept offers from companies who can showcase their excitement, flexibility and appeal. My clients know that this market moves fast, so my team of tech recruiters works with each hiring manager can do the same without sacrificing quality.
Once you find someone you're excited about, it's important to ask them the right questions to expedite the interview process so that you can prepare to make an offer. By being honest about your interest, expectations and limitations, you set the foundation for a healthy, productive working relationship.
Hiring Truth #4: Meeting candidates back-to-back makes it easier to make a decision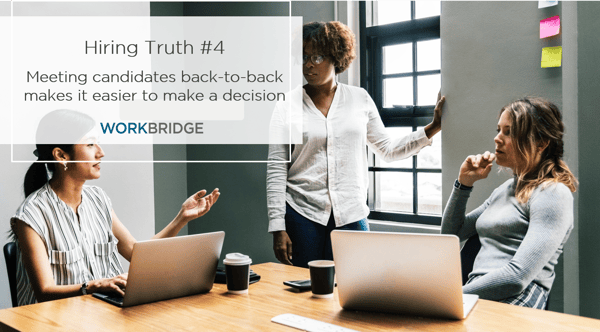 If you are to interview one or two candidates per week, it becomes harder to remember what you liked or disliked about those prior.
While it can seem like a task to line up just one promising interviewee, managing multiple candidates simultaneously and seeing them back-to-back helps you weigh potential team members evenly and with clarity. Allowing for late-stage options and comparisons help your team feel ready to make decision  you are all excited about.
By being realistic, keeping your goal focused and prioritizing the process efficiently, you'll find yourself in a position where you are not only attracting high-quality, qualified candidates, but ensuring a smooth hiring process along the way. If you set clear expectations, deadlines and instructions for all involved stakeholders, you'll seamlessly move through a hiring process and get back to what you're best at — leading your team to success.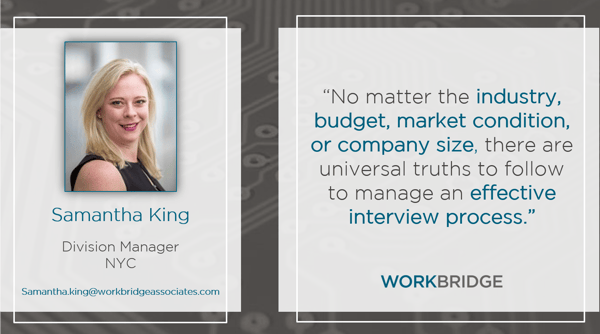 Samantha King is the Division Manager of Workbridge Associates New York and has been advising hundreds of companies, from early-stage startups to Fortune 10 companies for more than ten years.
She has managed thousands of interviews from entry to C-level technology candidates with her team of New York-based recruiters.
Samantha helps build teams by understanding clients, and by becoming extensions of their brands. We work together to develop a hiring process that is efficient, effective, and gets the right people into the right roles."
Need more advice on finding the right candidate for your team ASAP?
Get in touch with Samantha here.
---
Workbridge Associates, part of the Motion Recruitment network, provides IT Staffing Solutions (Contract, Contract-to-Hire, and Direct Hire) across 11 major North American markets: Boston, New York, Philadelphia, Washington DC, Chicago, Dallas, San Francisco, Silicon Valley, Los Angeles, Orange County, and Toronto.
Workbridge offers a unique and deep expertise in the highest demand tech skill sets, such as UI/UX, Open Source, Microsoft Development, Network Security & Infrastructure, and Mobile Development. Our high-touch, specialized and team-based recruitment model, paired with our deep networks and knowledge of our local technology markets, results in an exemplary track record.