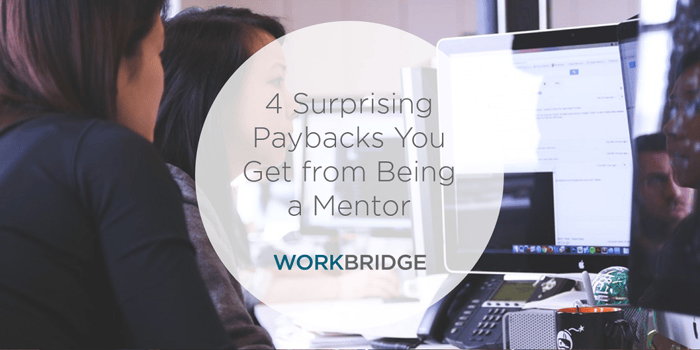 At first glance, mentorship seems a bit of a one-way street. With a closer look, it becomes clear that there are some surprising benefits for the mentor, as well as the mentee. Sam King, Division Manager of Workbridge Associates NYC, discovered four unexpected paybacks that will encourage you to consider mentorship yourself.
1. The satisfaction of watching someone evolve
Looking back at their own experiences and evolution, many of the best in the tech industry grew up being a mentee. For those who were mentored most of their lives, it's only natural to want to give back in the same way. But as simple as mentoring sounds, there is a right and wrong way to go about it. The correct way is to be as open and able to share as much as your mentee is sharing with you, and to talk an honest journey together. Their success is theirs; however, the pride of seeing your mentee grow from the person you first took under your wing into an accomplished professional is yours to share.

2. Knowing in a small way you were a part of someone's success
There are only a few things money can buy in life, but being able to see firsthand - and knowing that in a small way you facilitated someone's success - is certainly not one of them. It priceless. Mentoring provides an amazing feeling that hits you at the core of your heart and there is no other feeling like it.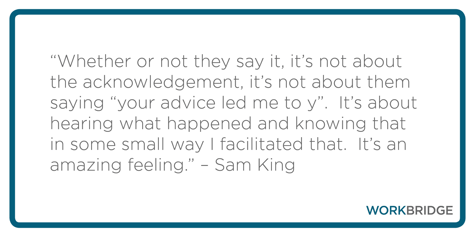 3. A deep look into your own faults and weaknesses
When you are mentoring someone, it allows you to discover the obstacles in your own game and what you can do to improve on yourself. Talking to someone about what they are doing or what they are going through also allows you to look at it from a different perspective. You might approach a similar situation in a new light. Furthermore, it gives you a chance to communicate a different learning experience in the future.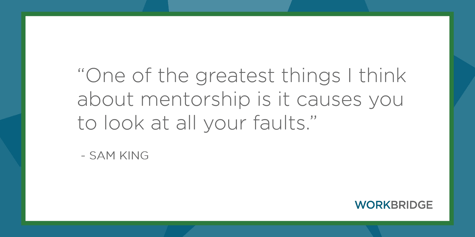 4. You learn what makes you uncomfortable
A mentor is essentially a mirror of your own reflection and you learn what makes you feel good and what makes you frustrated in life. If you are approaching mentorship in the right way, you should be sharing equally in the benefits of the relationship, just as your mentee is.
Mentoring someone not only makes a difference in someone's life, but takes you on your own journey of self-discovery. Take the time to mentor someone and you'll be surprised with what you learn about them as well as yourself.
You might also be interested in:
About the Author: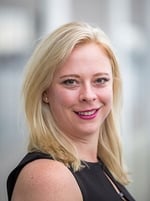 Sam King, Division Manager of Workbridge Associates New York, is a serial mentor for you professionals in business. When she signed up for a job in the tech industry, she wanted to experience what it was like from the other side: to mentor. Since mentoring her first mentee, Sam has continued to be a mentor throughout her time at Workbridge Associates. She says that watching someone's growth and success will never get old and she continues to learn more about herself every day.
Work with Sam to find tech talent or the next step in your tech career.