Using data from working to find hundreds of tech professionals their next role in 2016, Workbridge recruiting experts identified some trends in salaries, experience and skill sets for tech professionals. You can read the full report here. One of the notable findings was that salary growth stagnates for tech professionals after 15+ years of experience. Keeping these factors in mind can help you continue to increase your salary year after year if you position yourself correctly.
1) Your Tech Stack
Your skill set is obviously one of the most essential parts of continuous salary growth. For example, based on data from past placements, the highest salary increases seen in 2016 were received by Java Developers. With the introduction of Java 8, Java now has a functional programming side compared to the past object oriented type development, which gives it functionality for both large institutions and the start-up space. One of the biggest factors is also the need for Core Java in the financial space – certain industries such as financial will frequently be able to up your salary more than others; if you have a technology skill set that is in high demand in these industries, you'll be better set up to increase your compensation. Mobile, Network Security, Front End, Ruby on Rails, Product Management, and UI/UX were also listed among the highest paid technologies coming into 2017.
2) New Trends & Technology in Your Industry
It can be hard to keep up with new trends in technology, especially for those tech professionals who have been in the workforce working with specific tools for years. When new tools or languages (or even methodologies, like Agile) are developed, they can have a very large impact on work flow, processes, and structure of the organization of projects and therefore on your value as an employee. For instance, Cloud Computing technology experience, such as Azure and Amazon Web Services, can increase salaries by as much as 26% according to this research we've collected. Another skill set in demand is mobile development experience, with iOS and Android lifting salaries by 14% and 13% respectively.
What are the highest paid tech skills? Find out how to make $200K as an engineer.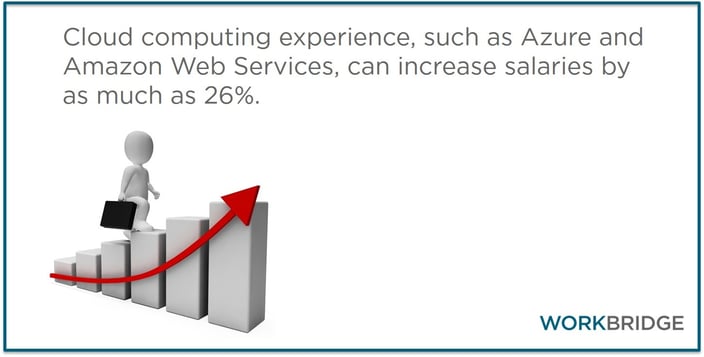 3) Mobility & Willingness to Change Jobs
According to a study done by ADP following the close of the first quarter of 2017, moving jobs has an average salary increase of 5.2%. Other reports estimate that the average is 8-10% in the more fast-paced industries. Experienced technologists who move into higher level roles on the corporate ladder, transitioning into management or lead roles through a promotion or job change, will of course see more growth in their compensation. A lot of employers feel comfortable hiring experienced engineers working for other companies and don't see the need to promote within the company, so there is a reason why most employees would leave their current job for 13%.
4) Career Growth into Management
Outside of the most expensive tech hubs, many people placed with a $200K+ salary are generally at a Senior Management, C-Level or Lead position working for a startup or Fortune 500 company. As an engineer, being an effective manager who can lead others, take ownership, and make critical decisions will logically lead to salary growth. An MBA (full-time, executive, online, or part-time), a Master's Degree in Engineering and a focus on management opportunities, as well as courses and a certificate on Leadership, are all important areas that can help qualify a candidate for a higher compensation.
Are you looking for a title change? Check out our job board for opportunities in management and beyond.
5) Positioning Yourself Competitively to the Incoming Workforce
There will always be an influx of new entries to the workforce. With every graduating class, a new set of young minds with the latest knowledge will start competing with those who have been in the business for 15+ years. When preparing for an interview, think about what sets you apart from the rest of the applicants besides your tech stack. Ask yourself this question: what is the difference between someone with a degree from 1990 and 27 years of experience compared to a person who graduated in 1996?
For the complete list of guidelines to keep your salary growing strong and steadily throughout your career, read the entire article here.
Related Links: