Transitioning from one tech job to another can be a daunting task. A key variable in the equation is knowing what to look for in the next step of your career. While it takes time to find the right fit, going in with a clear set of priorities will help you search for a new job with confidence and understand what you really want in a new role. Once you know your priorities, you can quickly recognize the right tech opportunities for you, and alternatively, identify the ones that are not a good fit.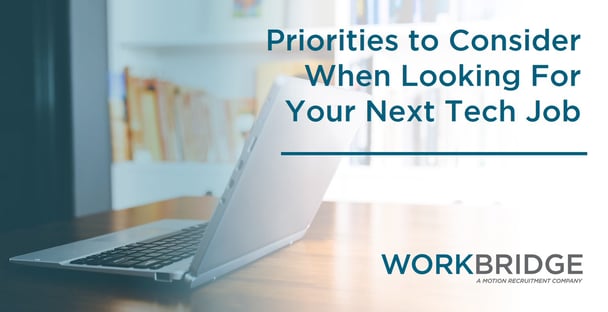 A simple and effective way to determine your priorities is to separate them into three tiers: what you need, what you want and what perks you seek in a new job. What you need will ultimately be the driving force in your decision. So, first spend the time crunching the numbers and identifying what your deal-breakers are before you do anything else.

Start with pinpointing your needs and add these to your Tier 1 list of priorities. Some things you might need could include a livable salary, health insurance, proximity to home, exposure to a specific tech stack or even a specific industry. When you think about what constitutes as a need, ask yourself, "if this is not included in my new job, will I be OK with that?" If the answer is "no", that particular factor should be included in your needs list. Be honest with yourself and make sure nothing on your needs list is something you could live without.
Next, create your wants list, otherwise know as Tier 2 of your priorities. This list should include variables that can come in handy if you find yourself choosing between multiple roles. Think of your wants list as factors that differ greatly from company to company. Tier 2 priorities could include remote flexibility, exceptional company culture and even opportunity for fast growth within the role. While you don't need remote work flexibility right now, you never know when you might.
This is a great time in the process to think about what you like in your current company. Do you currently have a robust list of paid holidays and unlimited vacation time? Have those elements of your current job been positive for you? Add anything to your Tier 2 list you currently have that you would like to retain. Also, consider what you liked about other jobs you've had and add anything to this list you already know you will value and appreciate in your next role.
Once your Tier 1 and 2 list of priorities are finished, your last step is to create your Tier 3 list. Tier 3 is reserved for all of the nonessential nice-to-haves that can be particularly commonplace in the tech industry. Perks could include free coffee and food (who doesn't love a good snack wall?), complimentary shuttle service to headquarters, casual dress code, tuition reimbursement or even quarterly offsite company retreats. Flush this list out as much as possible, because it will help you better understand a nice-to-have vs. an essential need.

Keep in mind, your priorities will shift based on where you are in your career and life. Less experienced IT engineers are determined to sharpen their skills in an array of environments and more senior candidates may want more company control in a specific industry.
If you're a parent, you're more likely to rank factors like job security, health insurance, and work-to-home proximity as the top priorities on your needs list. Whereas, an engineer earlier in their career and life without dependents might prioritize a role with frequent travel requirements or one with a cutting-edge technology startup environment and evolving structure and processes. Some engineers prefer long term growth at one company, while others are hungry to garner a wide array of experiences and environments.
Knowing your priorities will also give you an advantage in the negotiating phase of an offer. If your needs are met with this role, your counter offer should include items on your wants list to sweeten the deal. Remember, your wants list are the items you can live without, but don't necessarily want to live without.
Explore these popular list items and let us know how they rank in your search.
Income Potential
Your income is likely one of the most important factors in selecting the best job. First, determine your 'livable' number and put it on your needs list. If you know you can't meet rent, loans, and annual expenses for less than $80,000, refrain from interviewing with a company with a ceiling of $65,000, no matter how interesting the work is. While making more might always be better, know the number you'll truly settle on, and start from there. Don't rely on bonuses to meet your livable income minimum, as they are not guaranteed.

Tech Skills
While there is something to be said for being a talented generalist, if you're steadfast about working with a specific technology, language or style and will not sacrifice this, add it to your Tier 1 list. If you're not concerned with working with the latest tech, this can fall to a lower rank. After all, getting great technical experience is the best way to set yourself up for long-term success, regardless of the direction you choose to pursue.
Commute
No one likes a long commute, but unless you can lock down a fully-remote role, you'll likely have to dedicate some portion of your day getting to work. If you live in a city without a car, you shouldn't interview for a job that is not accessible by public transportation. Likewise, if you have a car, you need to make sure there is parking available. Do not accept a job that is too far away under the assumption you might be able to get permission to work remote down the road. Alternatively, if you don't mind a long commute and can spare the time each day, managing a longer commute might be less important to you than others.
Mission
One of the biggest factors in finding a satisfying work environment is the mission of the company. If you are mission-oriented and don't fundamentally care about your company's larger goal, it's harder to do your best work. If you need to be inspired by contributing to a greater cause, consider non-profits, or charity-based companies to not only do great work, but do good for the world.
If you're strictly income-focused, the mission of the organization might be a lower priority. This isn't to say you can't make great money while doing good, but then you'll have a smaller pool of options to choose from. Many engineers absolve this by joining startups with a health-conscious mission, or starting a 'side' program to give back beyond their regular product.
Think You Have it All Figured Out?

Whether you're just getting started in your career, or are a proven Python prodigy, advancing is important to giving yourself the best quality life and career possible. At every step, you must evaluate (and reevaluate!) your priorities, goals and capabilities.
If you're looking for more advice and direction in your career, consulting with a specialized tech recruiter can help alleviate your concerns and expedite your path to success. At Workbridge Associates, we are committed to helping you find the best role, with an array of teams that are knowledgeable about your technology, as well as the local market in your city. By offering a unique and deep expertise in the highest demand tech skill sets, we help you not only rank your priorities but work with you to get everything you need out of your next fulfilling tech job.