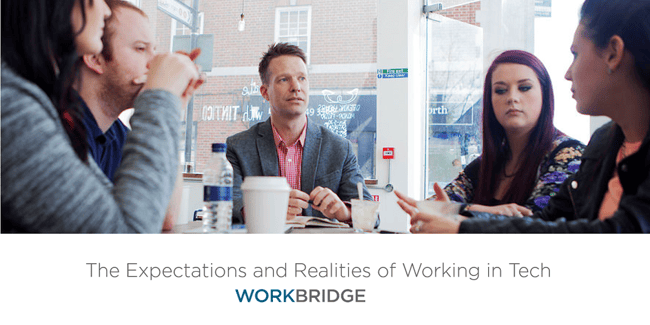 "I want to work in Silicon Valley because that is where all tech jobs are at."
"There are no women in tech."
"You can't be creative in the tech industry."
When people think of working in tech, they often have a lot of expectations of what life is actually like. Tom Parzych, Division Manager of Workbridge Dallas, is here to dispell some of the common misconceptions people have.
1. Expectation: You have to live in Silicon Valley to work in tech.
Reality: Any large metropolitan area will offer a stable, and consistently growing, technology market. Technology is where most companies are investing. Every industry and sector needs to hire to invest in their technology. Whether the city has a dominant presence of one specific industry (i.e. - Finance, telecommunication, law, real estate, etc.) or a diverse landscape, each industry will need to evolve a focus on technology in order to help the company evolve. The main reason the perception in Silicon Valley is that it is the only place to work in Tech is due to the fact that the dominant industry is software companies.
Though Silicon Valley is well-known as the tech capital of the world, other rising hubs like Dallas are well on their way to displacing that title. For instance, Dallas was named by SmartAsset as the country's fourth best tech city in which to work. Known as the home of Texas Instruments and mogul Mark Cuban of Shark Tank fame, Dallas has its share of fast-growing VC-funded companies with IT Services provider CPSG Partners and real estate CRM developer Think Tech Labs, along with 168 Inc. 500 companies. With 3.9% job growth from March 2015-2016, the U.S. Bureau of Labor Statistics notes that "among the 12 largest metropolitan areas in the country, Dallas ranked first in the rate of job growth and third in the number of jobs added."* Additionally, the annual Urban Land Institute (ULI) report names Dallas the top U.S. market for overall real estate prospects. In terms of affordability, Dallas exceeds even their much admired neighbor Austin in the ULI Affordability Index.
Start your job search in tech by checking out these job listings in Dallas or a city near you.
2. Expectation: The technology industry is dominated by men.
Reality: This is a common misconception based on historical data and the previous 'IT' field. There are a lot of companies who would like to diversify the make-up of tech departments and often that starts with the opportunity to hire women. There are many programs that now encourage female involvement in the tech industry, including 'Women who Code' meet-up groups and other industry-interest groups that encourage more female involvement in the technology community.
There are more women in the tech industry than you think. Tech companies are making more of a conscious effort to increase women in the industry. After learning that only 30% of Google's employees were women in 2014, they offered free coding lessons to women and minorities to encourage more involvement. As many obstacles women face in the tech industry, there are ways to overcome them and make a statement for future generations.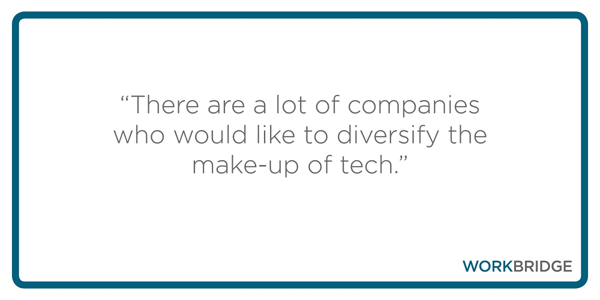 3. Expectation: Working in the tech industry can be monotonous and there's no room for creativity.
Reality: A lot of people in the industry are extremely creative and are focused on fostering that creativity and challenging themselves to evolve their skill set through solving complex problems, which requires looking at solutions from various angles and points of view.
The tech industry is filled with creativity. When people think of "tech" they imagine engineers or programmers, but they often forget the design side of tech. User Experience (UX) designers are the ones who create the interfaces for your screens and how it affects your experience with the product.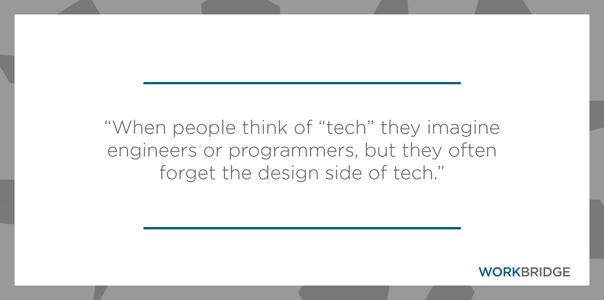 4. Expectation: You need to fit a specific job description with a skill set matching everything that is listed in the requirement section.
Reality: Most of the positions (especially senior roles) are very much based on the overall potential of a candidate. There are so many technologies that environments can utilize and the industry is constantly evolving. Any company would be very hard-pressed to find someone who had the specific stack they are currently working with and they shouldn't want to! Hiring managers aren't putting as much of an emphasis on resume screens, therefore you shouldn't put a lot of emphasis on job descriptions.
Ready to start your tech job search? Here are some resources to help guide you to a job you'll love: