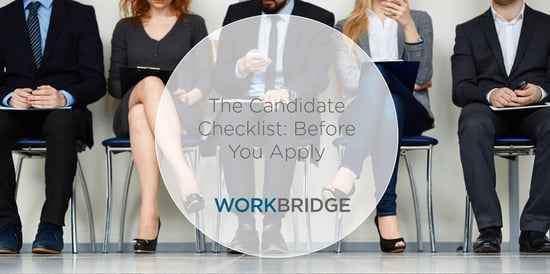 The interview is widely considered to be the most important part of the job seeking process, but how do you get there? To be considered for a desirable position, you need to stand out among other qualified applicants. Are you bringing the right tools and skills to the table? Before you're even looking for your next job, do the homework to make sure you're a top-tier candidate by the time you apply.
Sam King, Division Manager of Workbridge Associates New York, has some valuable market insight on the best practices for positioning yourself as a desirable candidate in the competitive IT job market of today.
Looking to hire tech talent or find a job in New York City? Contact Sam's team here.
Know Where You Stand
Whether you are entry level or an expert in your field, knowing what's expected in your industry should be the first step in any career, and especially your job search. In any given role, your scope of work and responsibilities will vary drastically depending on your experience level, tech stack, and ability to manage others. Soft skills and hard skills both play a role in determining your experience level.
Soft skills usually involve user interaction, or business side interaction with product, marketing, sales etc. and are most necessary for IT managers.
A junior engineer is traditionally less involved in these areas. Soft skills like excellent communication and understanding tech's role in driving business are gained over time as opposed to hard skills, which are usually more relevant to design, architecture, development and implementation of specific technologies.
Junior candidates spend the majority of their time focusing on building and integrating systems but aren't ultimately driving the decisions behind the scenes.
Decision making is reserved for the senior staff, who have the ideal perspective to make well-informed business decisions.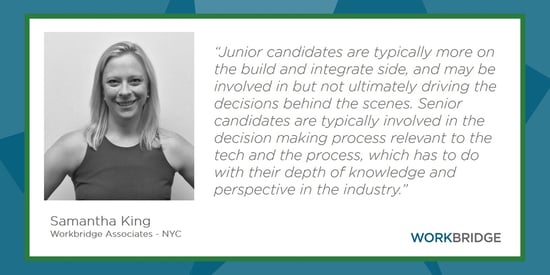 Get Familiar with Your Audience
Research the companies you're interested in. Talk to people in your network and check out recent press about them. What type of company culture do they have? Is there room for growth? Is it a team environment? Which technologies are they using? What are people saying about them online? Who's on the leadership team and what makes them successful? What types of products or services do they offer? Would you use their product or service? This research will give you the best indication if you're a good fit, not to mention your knowledge of the organization is sure to impress the hiring manager conducting the interview!
Level the Playing Field
What do other professionals in your field have certifications in?
Are they publishing their work on popular code repositories like GitHub, HackerRank & BitBucket? Candidates who show initiative in acquiring certifications for new technologies will find themselves at the front of the line when compared with candidates who stick to the status quo. You'll be able to better position yourself for success by modeling your efforts after the best practices of others who have come before you. A study conducted by IT Business Edge claims that "Forty percent of tech consultants said obtaining a certification helped them land a new gig."
Tailor Your Resume
Your resume should be adjusted for each job you apply to. Emphasize the most relevant skills required for the job in your summary, skills section and in your work experience. The ideal resume length is one to two pages, so avoid cluttering it with irrelevant experience. It should be easy to navigate and reflect your ability to provide a solution for a current business need, as well as showcase any subject matter expert contributions you've made as a thought leader.
Make Your Web Presence Shine
Your online profiles (LinkedIn, About.Me, etc.) are the first things potential employers will see when evaluating you for a position. Check LinkedIn and About.Me to make sure your message is clear and accurately describes your ability to contribute to the organization. What type of language are people with similar jobs using to describe their experience? Let others know what technologies you work with, what certifications you have and the level of experience you can bring to the table. Sam King, Division Manager of Workbridge Associates New York, has this to say about what helps candidates stand out: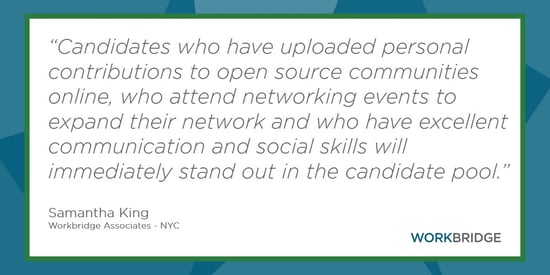 Interested in attending networking events in your area? Check out Tech in Motion today!
Practice Makes Perfect
Consider every interaction an interview, whether with a potential hiring manager or a connection that could be a reference for you in the future. Practicing interview Q&A's before the job search will help you seem intelligent, personable and prepared in any interview or conversation, as well as help you conceptualize what your best qualities and career desires are. In an actual interview, the line of questioning tends to follow a common theme. Research typical questions asked in technical interviews and prep answers for each. You shouldn't be surprised by questions like "What role do you think you're a perfect match for?" or "What's a personal challenge you've been able to overcome?" in a job interview, and you shouldn't be surprised by them outside an interview.
Related Articles: